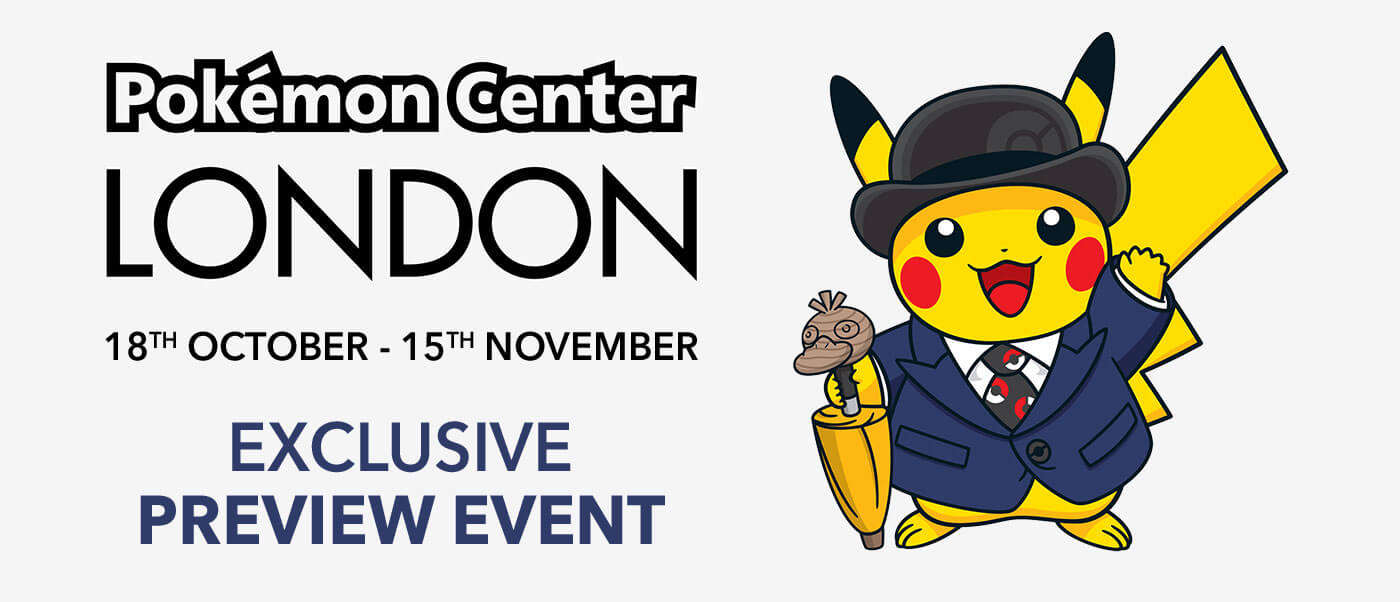 This Competition Has Now Closed
A special Pokémon Center London pop up shop will be opening at Westfield London, Shepherd's Bush, for a limited time from Friday 18th October 2019 at 10am.

The Pokémon Company International are holding an exclusive preview event on Thursday 17th October and you could get a first look at all the space has to offer and get your hands on new exclusive Pokémon merchandise before anyone else.

Nintendo Official UK Store have partnered with The Pokémon Company International to offer 40 lucky winners a pair of tickets to attend the Pokémon Center London exclusive preview event, which is by invitation only. All winners will be drawn at random. The preview session will be from 13:30 - 15:00. Enter your email address below for a chance to win.


Please note, there will be filming and photographing taking place at the sessions. Excerpts from these recordings may be used for future Nintendo marketing purposes. If you do not wish to participate in the recording activities, please make yourself known to a member of staff ahead of your session. Otherwise, by entering the session you agree to being part of our filming activities and grant Nintendo all exclusive, unlimited, worldwide, royalty-free rights to use the recordings for any purposes and in all media. For more information, please refer to our Privacy Policy for promotions and events .
About Pokémon Center London
If you've ever wanted to visit a physical Pokémon Center store but haven't been able to make it over to Japan (or Singapore), you're in luck! This October, a Pokémon Center pop-up store will open in Westfield London, Shepherd's Bush. The store, which celebrates the upcoming release of Pokémon Sword and Pokémon Shield for Nintendo Switch, will be the first of its kind in the United Kingdom. It'll offer plenty of Pokémon merchandise for fans of all ages.

The Pokémon Center London will be open to the general public from 10am on Friday 18th October.


Pokémon Center London Exclusive Preview Event - Prize Draw - Terms and Conditions
1. Entry is open to residents of Great Britain excluding employees and the immediate families of the Promoter, its agents or anyone professionally connected with the promotion.
2. Entrants must be aged 13 years or over. If you are under 18 years old you are representing that you have consent from your parents/guardian to enter the promotion in accordance with these terms and conditions.
3. By entering the promotion, entrants agree to be bound by these terms and conditions.
4. Entry is online by completing the entry form on the competition page at https://store.nintendo.co.uk/pokemon-center-london/preview-event-prize-draw.list. The Promoter cannot guarantee uninterrupted or secure access to the entry route.
5. Entry is free and no purchase is necessary.
6. Entry is strictly limited to one entry per person. Only the first entry will be accepted. Subsequent entries will be disregarded. Proof of sending is not regarded as proof of receipt.
7. Nintendo Official UK Store cannot be held responsible for entries lost, delayed or unclear.
8. The prize draw closes at 12:00 (midday) on Friday 11th October 2019.
9. 40 winners will be drawn at random from all entries from all valid entries received, and notified by email to the address provided on entry by 17:00 on Friday 11th October 2019. If a winner does not respond within 24 hours, Nintendo reserves the right to award the prize to a substitute winner.
10. Each winner will receive 2 tickets to attend the Pokémon Center London Exclusive Preview Event on Thursday 17th October 2019 between 13:30 - 15:00 only (arrive from 13:00), to be held at Unit 3109, Westfield London, Ariel Way, Shepherd's Bush, London, W12 7GF).
11. No travel costs or reimbursements will be provided. It is the winner(s) responsibility and cost to attend the event.
12. Any attendee under 13 years old will need to be accompanied by someone aged 18 years or over (ID may be required upon arriving at the venue).
13. There is no cash alternative to the prize. Tickets are non-transferable and non-exchangeable.
14. The Promoter shall not be responsible if the Pokémon Center London preview event is cancelled, varied or rescheduled for any reason. If this means that the winner/s cannot attend the Pokémon Center London preview event, the Promoter shall be under no obligation to provide any cash or alternative tickets.
15. All entries must be made directly by the person entering the prize draw and include a valid email address. Entries made online using methods generated by a script, macro or the use of automated devices will be void. No responsibility can be accepted for entries lost, delayed or corrupted, or due to computer error in transit.
16. The Promoter reserves the right to verify all entries and the winner, including, but not limited to, age and eligibility to enter, and to refuse to award the prize, or withdraw prize entitlement, where there are reasonable grounds to believe there has been a breach of these terms and conditions or any instructions forming part of the entry requirement of this promotion.
17. For details about how the Promoter uses entrant's information in connection with this promotion please refer to our Privacy Policy .
18. Please note, there will be filming and photographing taking place at the sessions. Excerpts from these recordings may be used for future Nintendo marketing purposes. If you do not wish to participate in the recording activities, please make yourself known to a member of staff ahead of your session. Otherwise, by entering the session you agree to being part of our filming activities and grant Nintendo all exclusive, unlimited, worldwide, royalty-free rights to use the recordings for any purposes and in all media. For more information, please refer to our Privacy Policy for promotions and events .
19. The Promoter and its associated companies and agents excludes all responsibility for and all liabilities arising from any postponement, cancellation, delay or changes to the prize details, or arising from use of the prize, to the extent permitted by English law.
20. The judges' decision is final. No correspondence will be entered into.
21. The name and county of the winners will be available by written request to Nintendo UK, Quadrant, 55-57 High Street, Windsor, SL4 1LP, received within 28 days after the closing date of the promotion.