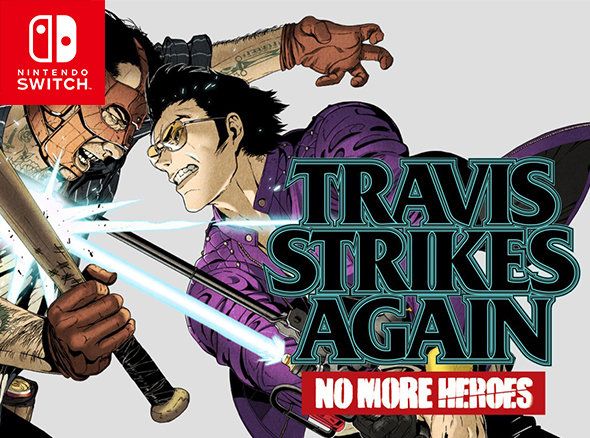 Travis Touchdown wanders into the game world and embarks on a rampage of epic proportions in Travis Strikes Again: No More Heroes for Nintendo Switch! Beam Katana in hand, slice and dice through a variety of game worlds, then square up to the boss at the end of each game!
Let your Beam Katana – or bat – do the talking as you hack and slash through droves of enemies. Use a variety of moves, from quickfire swipes and stronger strikes to charged up super-moves, and combine attacks with jumps and dashes to inflict even more pain. Between attacks, stay out of harm's way with well-timed dodges!
Two players can battle side-by-side co-operatively with a single Joy-Con each, so pass a Joy-Con to a friend and destroy Bugs as a duo! Use Skills to squash Bugs in seconds, or bring the pain with super effective Charge Attacks that wipe out most enemies with ease. In co-op play, combine your powers to unleash a simultaneous Charge Attack on any unfortunate foes – they won't know what hit 'em!

Game Details:
Platform: Nintendo Switch
Release Date: 18/01/2019
Category: Action
Franchise: Travis Strikes Again
Players: 1-2
Age Rating: PEGI 16
Publisher: Grasshopper Manufacture Inc.
Developer: Grasshopper Manufacture Inc.
Languages: English, German, Spanish, French, Italian, Japanese, Korean, Russian, Chinese