Mario + Rabbids Kingdom Battle Gold Edition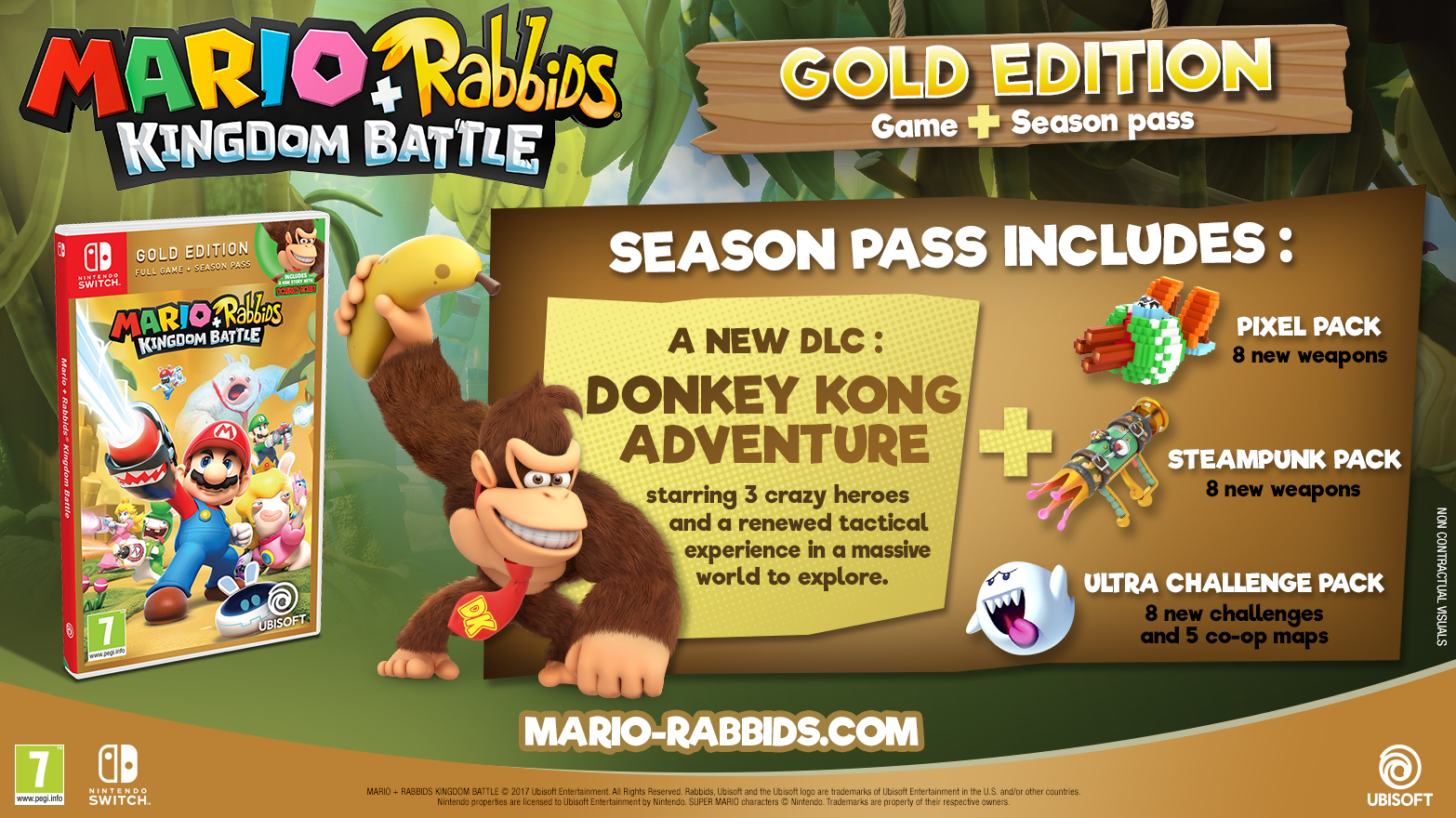 With the Mario + Rabbids Kingdom Battle Gold Edition you get the original Mario + Rabbids Kingdom Battle for the Nintendo Switch plus all the additional content that comes with the Season Pass!
DIGITAL CONTENT: THE SEASON PASS
The Pixel Pack that grants you 8 weapons with 8-bit visuals.
The Steampunk Pack that unlocks 8 weapons with steampunk style
The Ultra Challenge Pack featuring 8 Ultra Hard Challenges inside each world's Secret chapter. In addition, find a new co-op campaign with 5 co-op maps, featuring Chain Chomps, Tornadoes, Boos, and Pyroclasts.
Donkey Kong Adventure DLC : Experience a new story that expands the game's universe! Separated from her friends, Rabbid Peach will team up with two new heroes to save the day: the banana-loving hero Donkey Kong and the stubborn Rabbid Cranky!
AN EPIC TACTICAL ADVENTURE STARRING EIGHT HEROES
Embark on an epic quest with Mario, Luigi, Peach, and Yoshi and four Rabbids heroes: Rabbid Mario, Rabbid Luigi, Rabbid Peach, and Rabbid Yoshi to put the Mushroom Kingdom back in order!
Explore four iconic worlds filled with chests and secrets, solve puzzles, and defeat unpredictable enemies on the battlefield.
With a turn-based gameplay and an arsenal of more than 250 weapons, discover a feel-good and modern combat adventure.
Play with a friend in local multiplayer: test your tactical abilities in the Versus mode by opposing teams of 3 heroes across unique battlefields, filled with surprising bonus items. Or play additional co-op challenges featuring three levels of difficulty. Share a pair of Joy-Con controllers or use your Nintendo Switch™ Pro Controllers.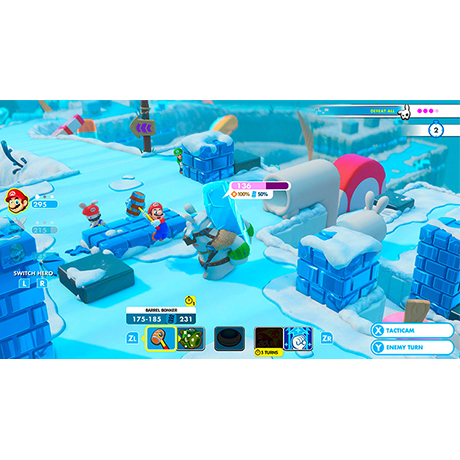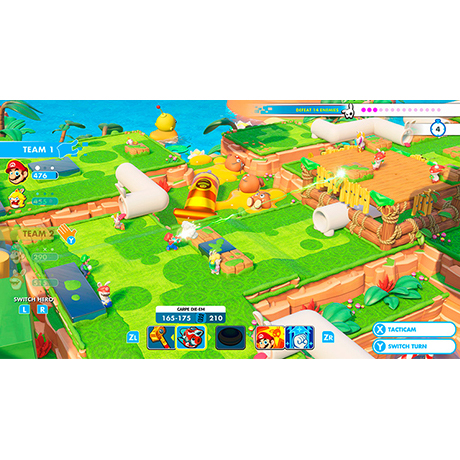 DESIGNED FOR NINTENDO SWITCH
A game as appealing in handheld mode as on your TV screen.
Play everywhere, and even on the go, thanks to short game sessions.
Unlock new in-game features with your amiibo figures.
A MASSIVE WORLD TO EXPLORE
Discover hours of gameplay filled with over a dozen battles, multiple unique challenges, and other tactical adventures that expand the Mario + Rabbids universe.
Prove your skills with original and complex Banana Zones, imposing Giant Puzzles, and numerous side and ultimate challenges.
Witness a twisted world full of iconic Donkey Kong references and the Rabbids' irreverence that create offbeat situations and fun encounters.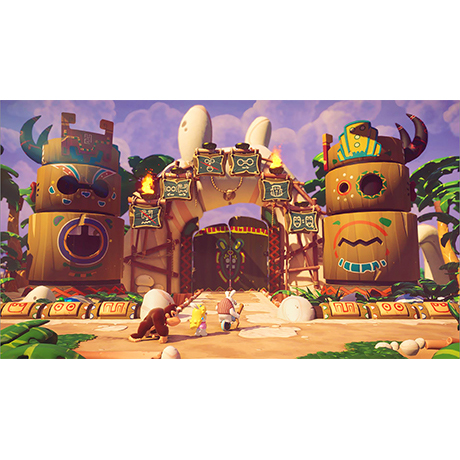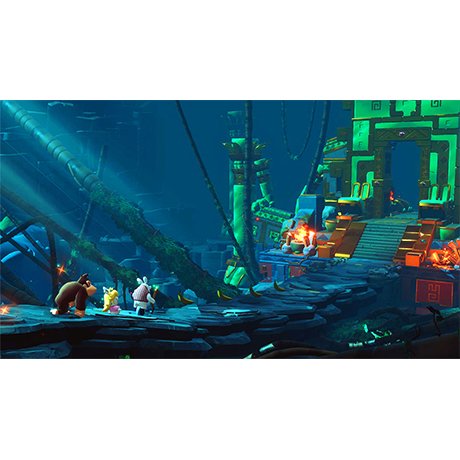 A RENEWED TACTICAL EXPERIENCE
Turn the tide of battle with an arsenal of fresh abilities including Donkey Kong's grab-and-throw skill that propels friends, foes, and cover stones, and Rabbid Cranky's gift of shooting enemies mid-air.
Chain together new moves like swinging with dandelions or climbing high grounds to conquer your foes.
Confront new enemies and face off against massive and unpredictable bosses, including two Shark-Rabbid lieutenants who will do anything to get
Product Details: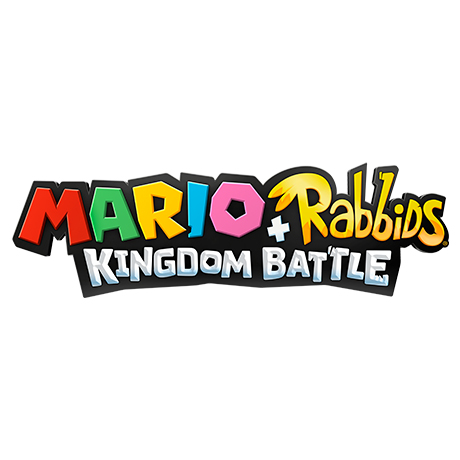 Platform: Nintendo Switch
Release Date: 26/06/2018
Category: Adventure, Strategy
Franchise: Mario + Rabbids Kingdom Battle
Players: 1-2
Age Rating: 7
Publisher: Ubisoft
Developer: Ubisoft Paris / Milan / Montpellier / Bucharest
Language: English
Snipperclips Plus: Cut it out, together!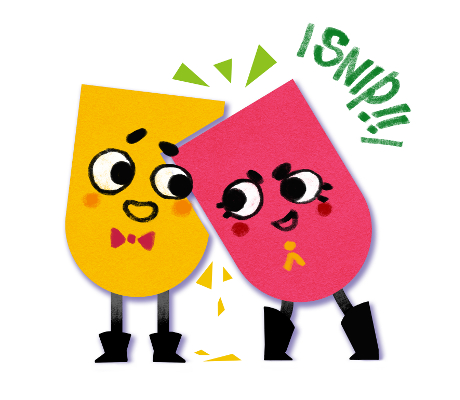 Meet Snip and Clip – a pair of papery pals who just love to solve puzzles! Whether there's a shape to be filled in, a basketball to dunk or a hamster to help out, Snip and Clip are always prepared to do what it takes to solve the problem.
Play through worlds of puzzles solo or as a pair, or take on bigger riddles in a party of two to four players. Up to four players can even face off in team battles!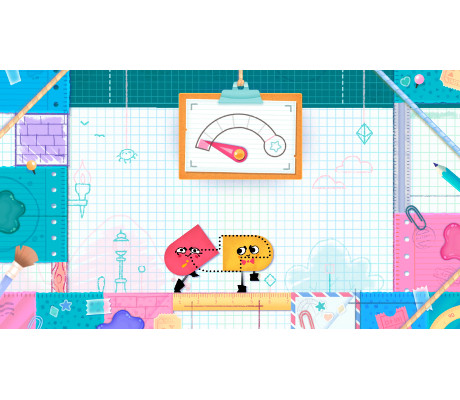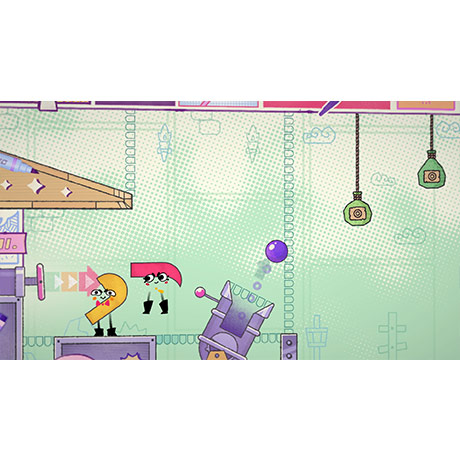 Enjoy two-player puzzles where teamwork is key anytime, anywhere, with anyone. Grab a Joy-Con and pass another to a friend to play on the TV or in tabletop mode. You'll have to be a cut above the rest to solve all these situations!
You don't need two players to enjoy Snip and Clip's adventures though – let's snip that in the bud right now! Play through worlds of puzzles solo or as a pair, or take on bigger riddles in a party of two to four players. Up to four players can even face off in team battles! If you're playing by yourself, you can also play in handheld mode.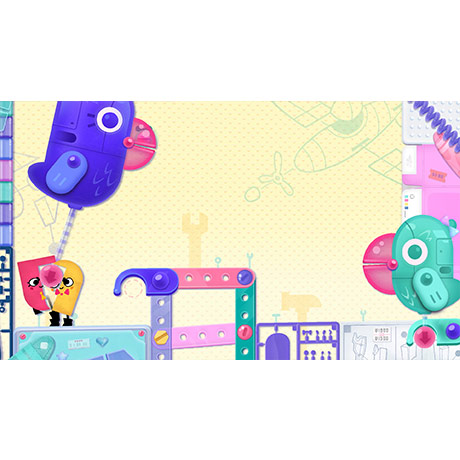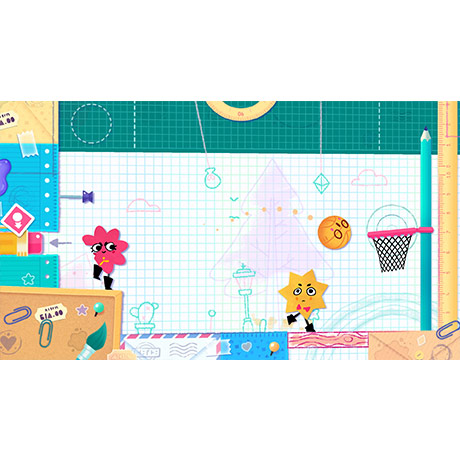 A new feature lets you replay all of the original stages in a brand new way: you start with one of many random body shapes that will require some hilarious new approaches. Snipperclips Plus: Cut it out, together! This content will also be available for current owners of the original game to purchase as DLC in Nintendo eShop.
Product Details: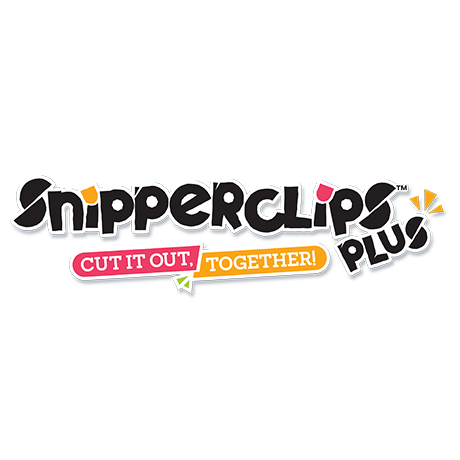 Platform: Nintendo Switch
Release Date: 10/11/2017
Category: Action, Puzzle
Franchise: Snipperclips
Players: 1-4
Age Rating: 3
Publisher: Nintendo
Language: English
Overcooked! 2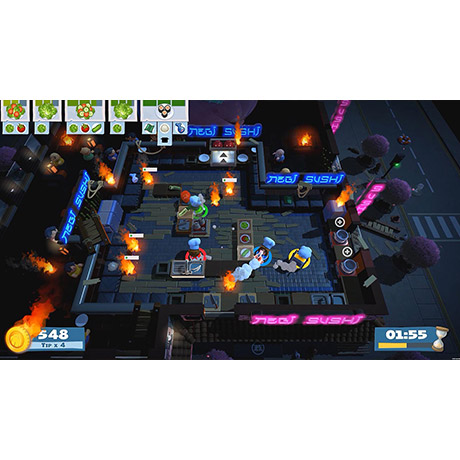 Online/Local Multiplayer Madness You'll knead to work together (or against each other) to get the highest score in chaotic local and online multiplayer. Team up with up to three other chefs taking a Joy-Con controller each, or use wireless play across four Nintendo Switch consoles.
Feast your eyes on this Journey across a brand new overworld map by land, sea and air. Cook in new kitchens ranging from sushi restaurants, magic schools, mines and even alien planets!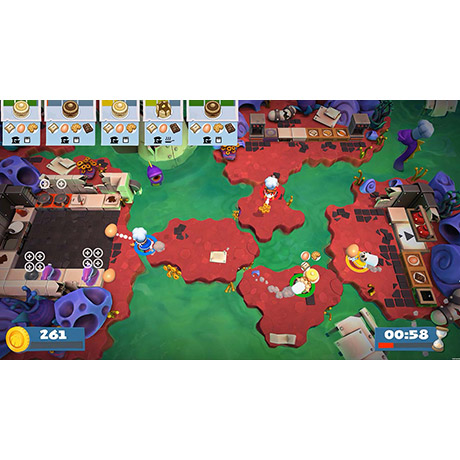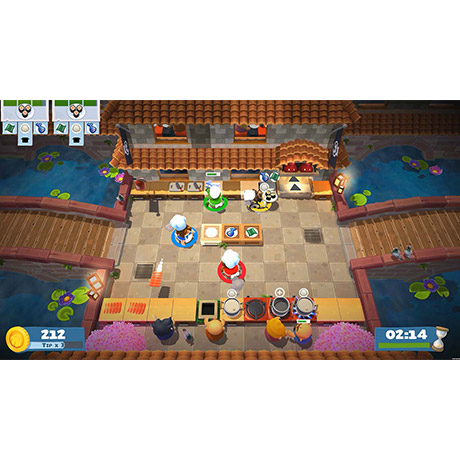 Whet your appetite! Travel the land cooking up a range of new recipes that are sure to cater to any tastes, including sushi, cakes, burgers and pizzas.
Romaine calm! Travel through teleporters, across moving platforms and save time by throwing ingredients across dynamic kitchens that shift and evolve. Some kitchens even whisk your chefs away to new locations.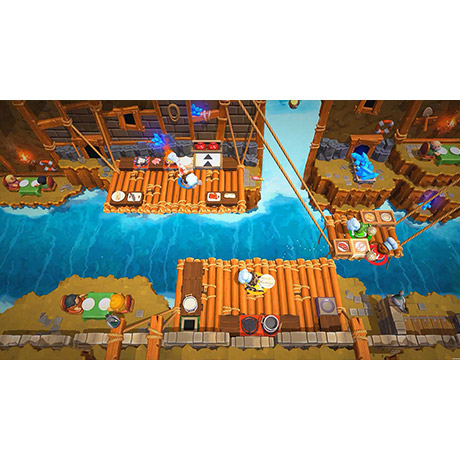 Product Details: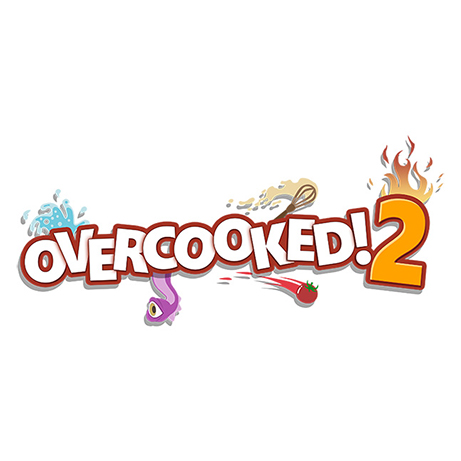 Platform: Nintendo Switch
Release Date: 07/08/2018
Category: Simulation, Party
Franchise: Overcooked!
Players: 1-4
Age Rating: 3
Publisher: Team 17
Developer: Ghost Town Games
Language: English