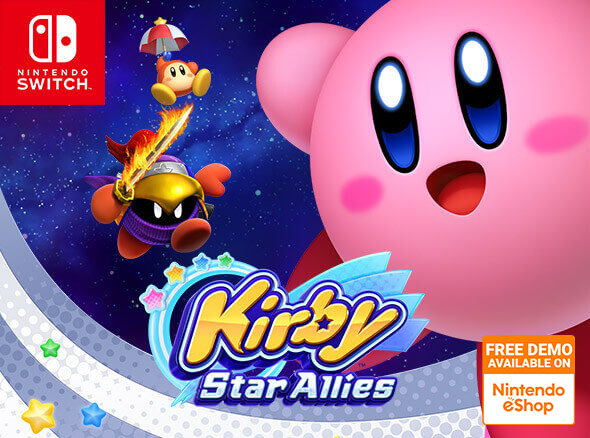 Kirby Star Allies debuts new Copy Abilities! Unleash your creativity with the Artist ability, or ensnare enemies in webs with the new Spider ability. You can even mix and match ability combos to create new Friend Abilities! Combine water and ice to make an icicle lance, toss a friend with friend throw, and more!
Thanks to free updates after launch, even fan-favourite legacy characters can become Kirby's friends! Well, Dream Friends, anyway! When you're saving the world, it's nice to have some heavy hitters on your side - even the likes of King Dedede, Meta Knight and Bandana Waddle Dee!
Gather an unlikely band of helpers to unleash your full potential in Kirby Star Allies, a fantastical platforming adventure for up to four players, only on Nintendo Switch.

Game Details:
Platform: Nintendo Switch
Release Date: 16/03/2018
Category: Adventure Action Platformer
Franchise: Kirby
Players: 1-4
Age Rating: PEGI 7
Publisher: Nintendo
Developer: HAL Laboratory, Inc
Languages: English, German, Spanish, French, Italian, Japanese, Dutch