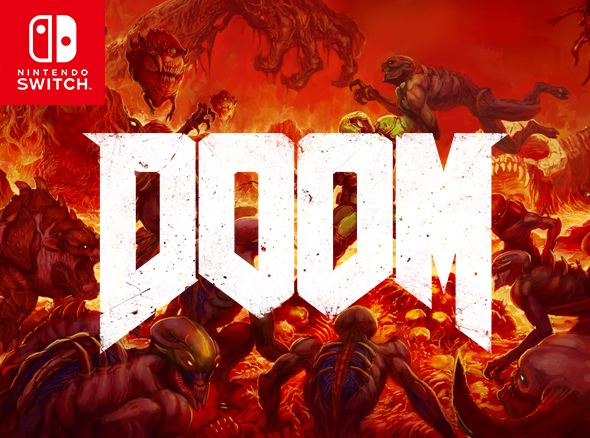 As the lone DOOM Marine, you've been activated to do one thing – stop the fierce and powerful demons from overwhelming the Union Aerospace Corporation's massive research facility on Mars. Take control of impossibly destructive guns and use fast, fluid movement to obliterate countless twisted demons.
DOOM's signature arena-style combat returns with a mix of multiplayer modes, from classics like Team Deathmatch and Domination, to the fast and frenetic Soul Harvest and Freeze Tag modes.
Gain access to all previously-released multiplayer DLC content. Wield deadly weapons, transform into different demons, customise your marine with unique armour, and fight it out on additional multiplayer maps.
Survive the demon onslaught anytime, anywhere in DOOM, an award-winning first-person shooter on Nintendo Switch.

Game Details:
Platform: Nintendo Switch
Release Date: 10/11/2017
Category: Action Shooter
Franchise: DOOM
Players: 1
Age Rating: PEGI 18
Publisher: Bethesda
Developer: id Software
Languages: English, German, Spanish, French, Italian, Japanese, Russian