Nintendo Switch with Neon Blue / Neon Red Joy-Con Controllers + £30 eShop Credit
This special Nintendo Switch bundle includes a download code for £30 Nintendo eShop credit to spend on over 2,000 games on Nintendo eShop! You can visit Nintendo eShop on your Nintendo Switch and download games directly to your systems.
Box Contents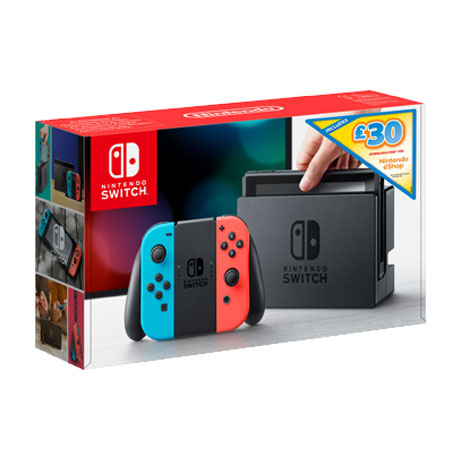 £30 Nintendo eShop Credit Download Code
Nintendo Switch console with Neon Blue Joy-Con (L) and Neon Red Joy-Con (R) controllers
Joy-Con grip (to which two Joy-Con are attached and used as one controller)
Set of Joy-Con Controller Straps (Black)
Nintendo Switch dock (which holds the main console and connects it to a TV)
HDMI cable
AC adapter
Nintendo Switch with Neon Blue / Neon Red Joy-ConControllers
The versatile Joy-Con offer multiple surprising new ways for players to have fun. Two Joy-Con can be used independently in each hand, or together as one game controller when attached to the Joy-Con grip. They can also attach to the main console for use in handheld mode, or be shared with friends to enjoy two-player action in supported games. Each Joy-Con has a full set of buttons and can act as a standalone controller, and each includes an accelerometer and gyroscope motion sensor, making independent left and right motion control possible.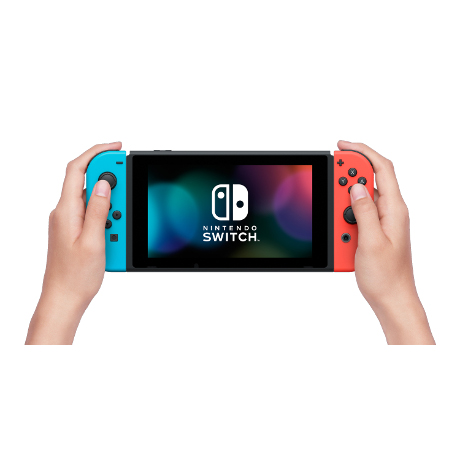 Nintendo Switch also contains a number of built-in features that make it more interactive. The left Joy-Con has a Capture Button that players can press to take instant screenshots of gameplay to share with friends on social media. The right Joy-Con includes an NFC touchpoint for interaction with amiibo figures, as well as an IR Motion Camera that can detect the distance, shape and motion of nearby objects in specially designed games. For example, it can tell how far away a player's hand is, and even if the hand is forming a rock, paper or scissors shape.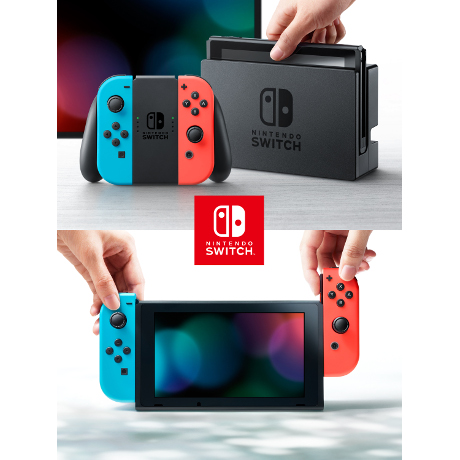 Both Joy-Con include advanced HD rumble, which can provide compatible games with subtle vibrations that are much more realistic than before. The effect is so detailed that a player could, for example, feel the vibration of individual ice cubes colliding inside a glass when shaking a Joy-Con. With HD rumble you can experience a level of realism not possible through sights and sounds alone.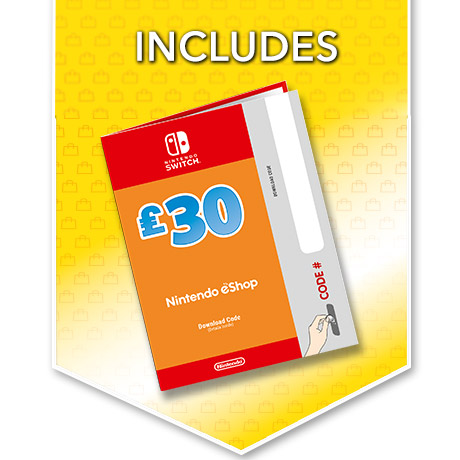 £30 Nintendo eShop credit This Nintendo Switch bundle is available to purchase, which includes a download code that can be redeemed for £30 Nintendo eShop credit - only while stocks last! Redeeming your Nintendo eShop credit is easy! Just follow our step-by-step instructions:
Select "Nintendo eShop" on the HOME Menu to launch Nintendo eShop.
Select the account you want to use.
Select "Redeem Code" on the left side of the screen.
Enter the 16-character prepaid code, then confirm.
Select "Confirm," then "Add Funds". The funds will automatically be applied to your balance.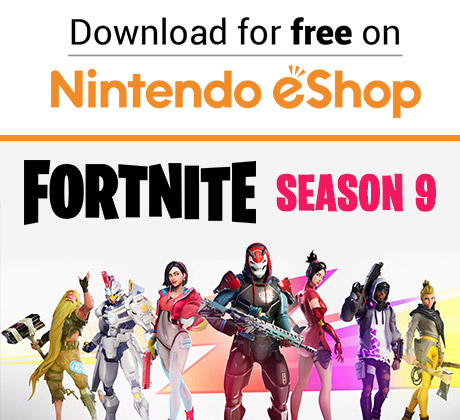 FORTNITE – download for FREE from Nintendo eShop on Nintendo Switch consoles Jump in to be the last one standing in the free 100-player Battle Royale. Build huge forts. Outwit your opponents. Earn your victory. Squad up together online with friends in the same room or around the world.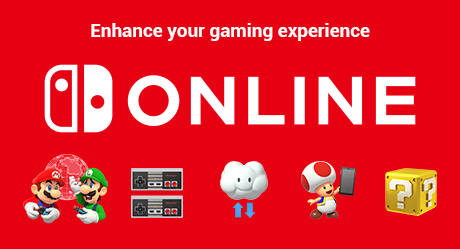 Nintendo Switch Online Enhance your Nintendo Switch gaming experience with the Nintendo Switch Online service and enjoy competitive and co-operative online gaming with friends and rivals from all around the world in supported Nintendo Switch titles, such as Mario Kart 8 Deluxe and Splatoon 2. More Information and T&Cs can be foundhere. Online play requires paid online membership.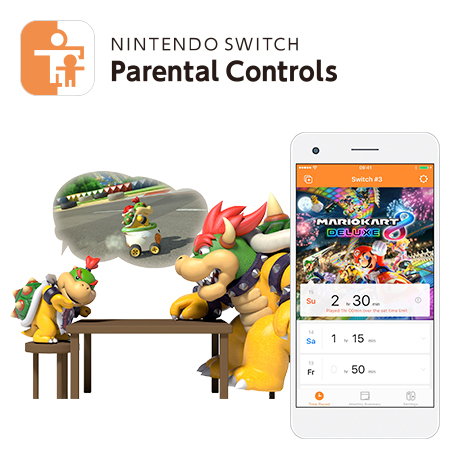 Nintendo Switch Parental Controls As a parent, it's not always easy to keep an eye on your children's time spent with entertainment devices. The Nintendo Switch Parental Controls app is a free smart device app to help you easily monitor what and how your children are playing.
Monitor gameplay time - you can set a time limit for how long your child is allowed to play.
Monitor what your child is playing - you can see which video games your child has been playing, and for how long.
Restrict your child's gaming access based on their age.
If you do not have a smart device you can also set certain restrictions on Nintendo Switch directly.
Mario Kart 8 Deluxe With Nintendo Switch, racers of all ages can launch off the grid anytime, anywhere, with anyone.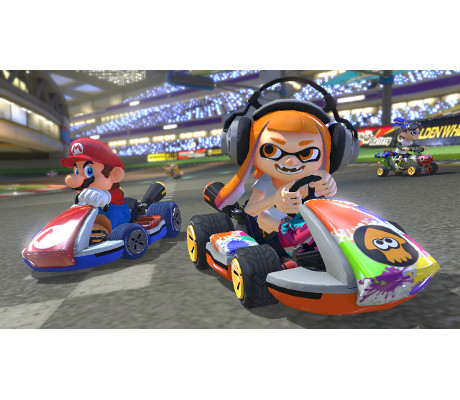 Enjoy 48 courses available from the start, as well as five speed classes, including the expertly challenging 150cc Mirror Mode and the high-octane, ultra-fast 200cc mode. In addition, players will now be able to choose from 42 racers, including returning fan favourites King Boo, Dry Bones, and Bowser Jr and the newly added Inkling Boy and Inkling Girl from Splatoon!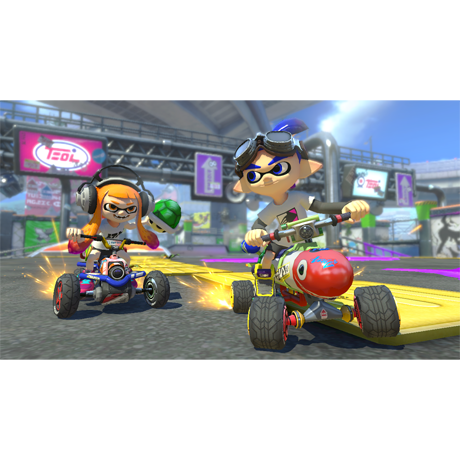 Budding racers who are new to the series and wish to learn the tracks can now make use of the new Smart Steering feature, which will help prevent them from driving off the course. In addition, friends and siblings alike can compete using motion control with the Nintendo Switch Joy-Con Wheel Pair (sold separately on 28th April). Mario Kart veterans can enjoy a more conventional playing style by using either a Joy-Con Grip or the Nintendo Switch Pro Controller for more precise controls.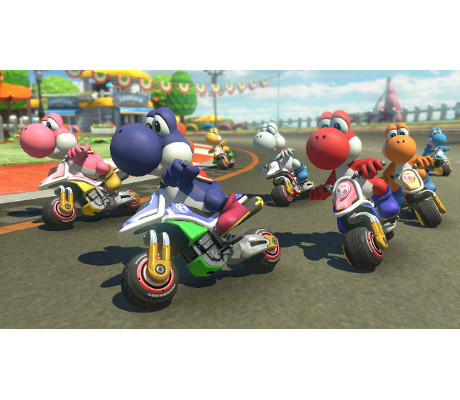 Friends can instantly compete in thrilling multiplayer races wherever they are, simply by handing one of the two Joy-Con controllers included with the Nintendo Switch console to an opponent and competing on the console's built-in screen. Extend the invite and place the console in the Nintendo Switch dock to play in TV mode in up to 1080p, where up to four players can settle scores over split-screen action! Test your skills online and challenge players across the globe, or go solo by playing in handheld mode – anytime, anywhere.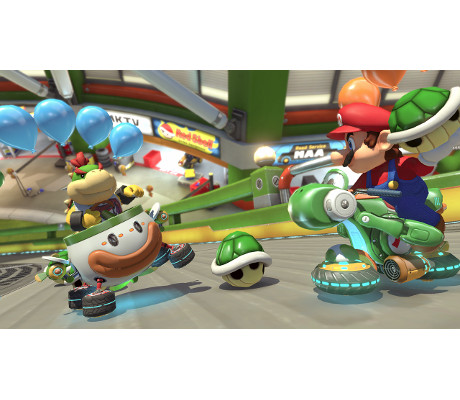 Plus, Battle Mode has been revamped and includes Balloon Battle and Bob-omb Blast! Including all-new courses such as Urchin Underpass and Battle Stadium, and returning ones like (GCN) Luigi's Mansion and (SNES) Battle Course 1. Players can now carry two items at a time, including new items returning from previous Mario Kart games such as Boo, the item-stealing ghost, and the Feather, which gives you a high jump in battle mode.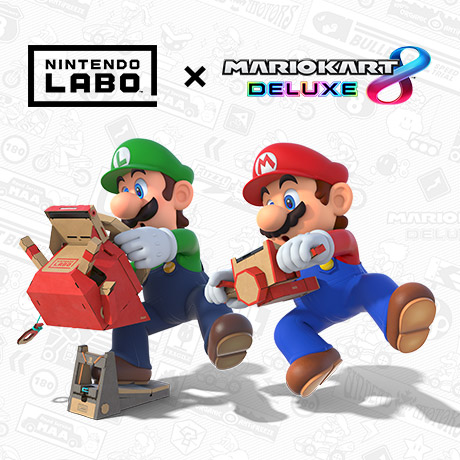 You can use the Toy-Con Motorbike from your Nintendo Labo: Variety Kit and the Toy-Con Car, Pedal, and Key from your Nintendo Labo: Vehicle Kit to control your in-game vehicle in the Mario Kart 8 Deluxe game. Enjoy every game mode and every vehicle type with these immersive, interactive controller options that make you feel like you're really in the driver's seat.. (Nintendo Labo Variety and Vehicle kit both sold seperately)
Product Details:
Platform: Nintendo Switch
Release Date: 28/04/2017
Category: Racing
Multiplayer Mode: Simultaneous
Age Rating: PEGI 3
Publisher: Nintendo
Languages: English