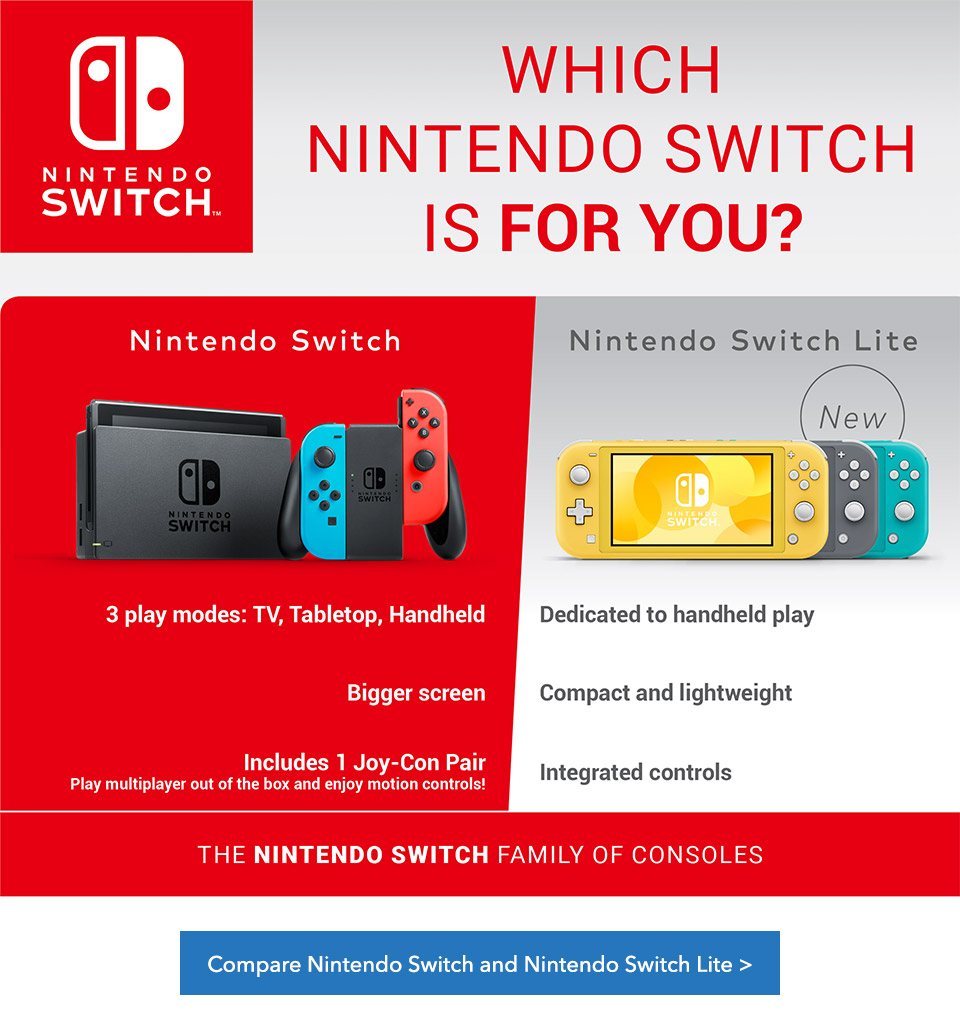 Summon up a Nintendo Switch bundle with Diablo III: Eternal Collection The devil is literally in the details of a new Nintendo Switch bundle with a Nintendo Switch system and dock featuring Diablo III artwork, a download code for the Diablo III: Eternal Collection game and a themed carrying case on November 2nd!
Box Contents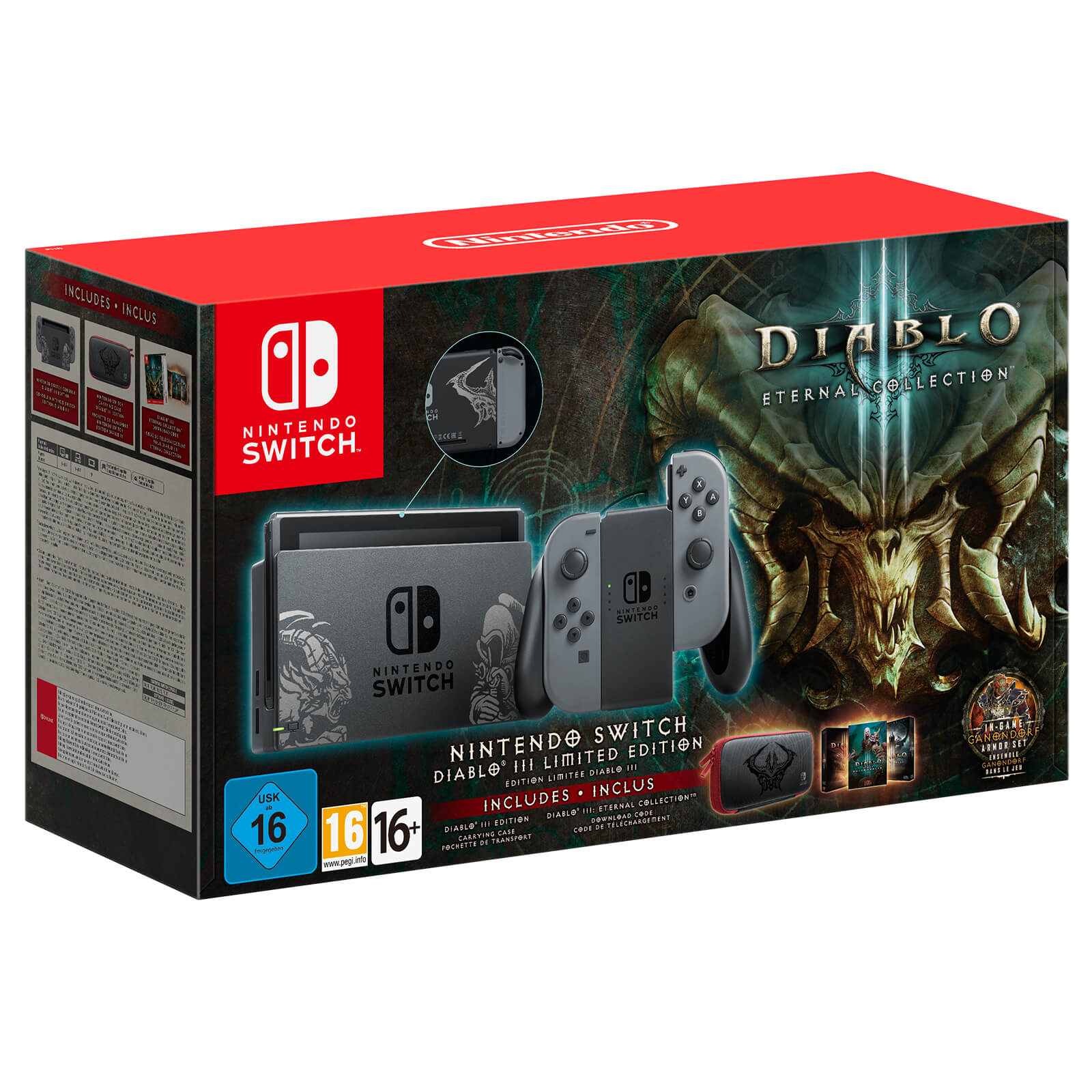 Nintendo Switch Console & dock (which holds the main console and connects it to a TV) decorated with artwork from Diablo III
Grey Joy-Con (L+R) controllers
Set of Joy-Con Controller Straps (Black)
Joy-Con grip (to which two Joy-Con are attached and used as one controller)
HDMI Cable
AC Adapter
Diablo III: Eternal Collection Download Code
Diablo III themed carrying case
About Nintendo Switch
The versatile Joy-Con offer multiple surprising new ways for players to have fun. Two Joy-Con can be used independently in each hand, or together as one game controller when attached to the Joy-Con grip. They can also attach to the main console for use in handheld mode, or be shared with friends to enjoy two-player action in supported games. Each Joy-Con has a full set of buttons and can act as a standalone controller, and each includes an accelerometer and gyroscope motion sensor, making independent left and right motion control possible.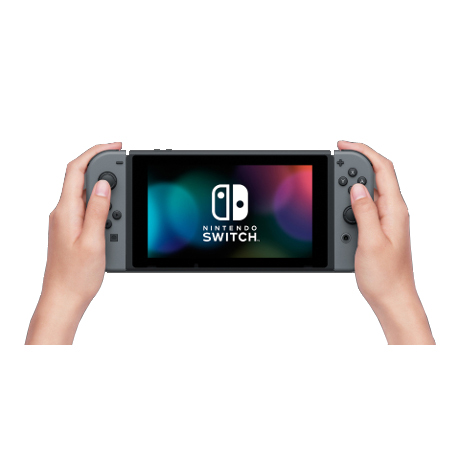 Nintendo Switch also contains a number of built-in features that make it more interactive. The left Joy-Con has a Capture Button that players can press to take instant screenshots of gameplay to share with friends on social media. The right Joy-Con includes an NFC touchpoint for interaction with amiibo figures, as well as an IR Motion Camera that can detect the distance, shape and motion of nearby objects in specially designed games. For example, it can tell how far away a player's hand is, and even if the hand is forming a rock, paper or scissors shape.
Both Joy-Con include advanced HD rumble, which can provide compatible games with subtle vibrations that are much more realistic than before. The effect is so detailed that a player could, for example, feel the vibration of individual ice cubes colliding inside a glass when shaking a Joy-Con. With HD rumble you can experience a level of realism not possible through sights and sounds alone.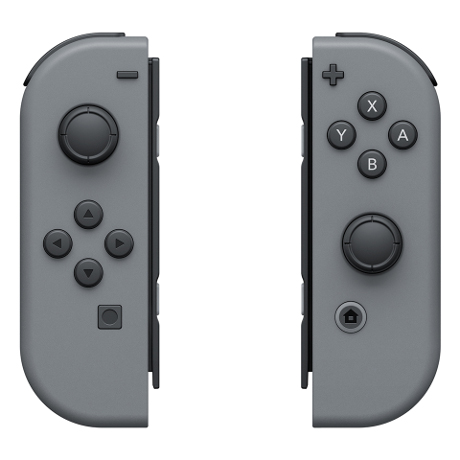 Nintendo Switch makes it easy for players to stay connected. Up to 8 consoles can be connected for local wireless play. By placing the console upright using the built-in kickstand, players can independently use the left and right Joy-Con controllers to experience multiplayer fun anywhere.
Nintendo Switch Online Enhance your Nintendo Switch gaming experience with the Nintendo Switch Online service and enjoy competitive and co-operative online gaming with friends and rivals from all around the world in supported Nintendo Switch titles, such as Mario Kart 8 Deluxe and Splatoon 2. More Information and T&Cs can be foundhere. Online play requires paid online membership.
Nintendo Switch Parental Controls As a parent, it's not always easy to keep an eye on your children's time spent with entertainment devices. The Nintendo Switch Parental Controls app is a free smart device app to help you easily monitor what and how your children are playing.
Monitor gameplay time - you can set a time limit for how long your child is allowed to play.
Monitor what your child is playing - you can see which video games your child has been playing, and for how long.
Restrict your child's gaming access based on their age.
If you do not have a smart device you can also set certain restrictions on Nintendo Switch directly.
Diablo® III: Eternal Collection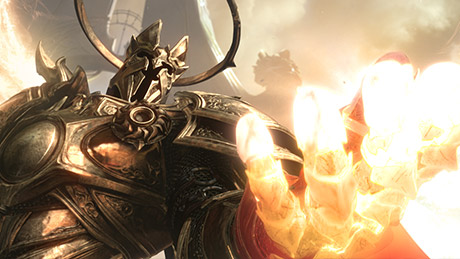 Raise some Hell Ages ago, angels and demons birthed your world in a forbidden union. Now they've come to claim it. Stand tall among Sanctuary's meek and wicked to battle walking corpses, horrifying cultists, fallen seraphs, and the Lords of Hell. When the High Heavens and the Burning Hells war, humanity must be its own salvation.
Unholy Trinity The Eternal Collection brings you the ultimate Diablo experience, including Diablo III, the Reaper of Souls expansion, and the Rise of the Necromancer pack all in one: seven classes, five acts, and seasons' worth of demon-smashing.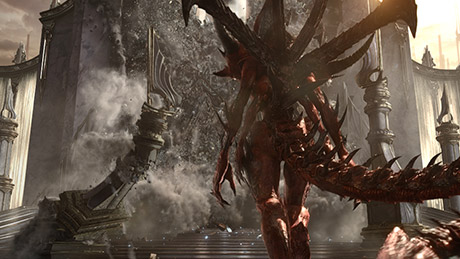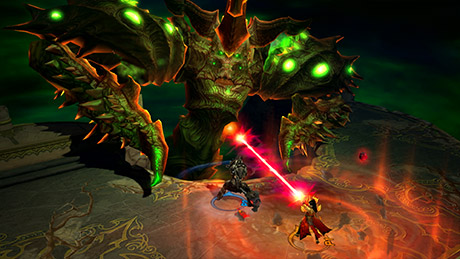 Defy the Darkness You're a surrounded world's only defense against Heaven and Hell. Arm yourself with a Joy-Con or the Nintendo Switch Pro Controller, and choose from seven dark fantasy classes, each with its own way to slay.
Eternal replayability Evil is never vanquished forever. Whether you're testing yourself against new difficulty settings, playing through the epic story campaign, searching for the perfect skill combo, expanding your collection of gear, racing through random dungeons, or travelling Sanctuary anew each season, you'll always have a fresh challenge to seek out.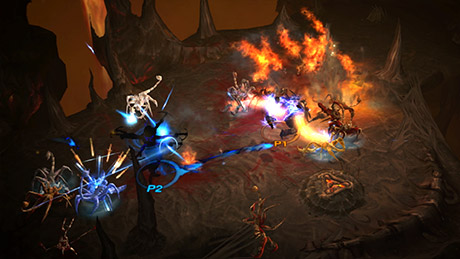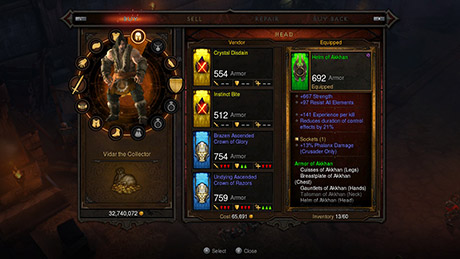 Assemble the perfect arsenal As you charge through Diablo III's five story acts, you'll collect gear from Sanctuary's furthest reaches, including legendary items that change your entire playstyle and armour sets that provide dynamic bonuses as you uncover more pieces.
Your path to power Diablo III's power-building system is flexible enough for an afternoon or a full season. Push back the Burning Hells with spears, storms, and zombie dogs – over 800 unique abilities to unlock and master. Turn fire into lightning, split your magic blasts, and change your skills to create devastating power combinations.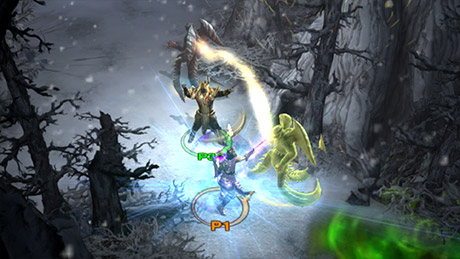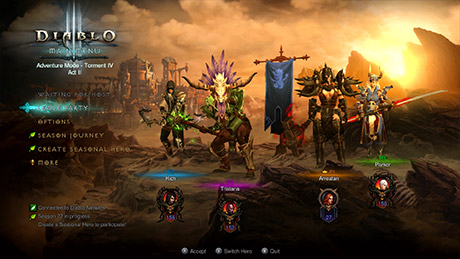 It's dangerous to go alone… Jump into local, action-RPG multiplayer with up to three friends, and crush demons from your comfiest couch cushions, no internet required – or fill out the ranks of your party online. You can play Diablo III shared-screen on a single Nintendo Switch system**, remotely on up to four Nintendo Switch systems, or combine TV and handheld play.
Nintendo Switch exclusives Discover pieces of The Legend of Zelda's world in Sanctuary. The Eternal Collection on Nintendo Switch includes the Cucco companion pet, a Triforce portrait frame, and an exclusive transmogrification set that will let your heroes sport Ganondorf's iconic armour. You'll also receive unique cosmetic wings.
Product Details
Platform: Nintendo Switch
Release Date: 02/11/2018
Category: Action, Adventure, RPG
Franchise: Diablo
Players: 1-4
Age Rating: 16
Publisher: Blizzard Entertainment
Developer: Blizzard Entertainment
Language: English