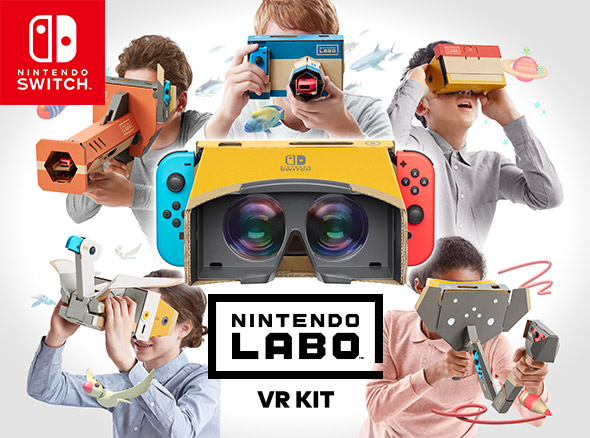 A brand new VR experience for all the family! Nintendo Labo: VR Kit introduces simple, shareable VR gaming experiences that kids and families can build themselves. Nintendo Labo: VR Kit is the fourth kit in the Nintendo Labo series, providing the tools to make DIY cardboard creations called Toy-Con; play a variety of games with these creations; and discover how Nintendo Switch technology brings it all to life. Nintendo Labo: VR Kit offers six new Toy-Con creations to build, including the Toy-Con VR Goggles, which combine with the other creations, encouraging players to use natural movements and gestures to interact with the gaming world and elevating the Nintendo Labo gameplay experience. Fend off an alien invasion with the Toy-Con Blaster, visit a colourful in-game ocean and snap photos of the sea life with the Toy-Con Camera, and so much more.
Nintendo Labo: VR Kit – Starter Set + Blaster

Super Mario Odyssey and The Legend of Zelda: Breath of the Wild in VR!
See Super Mario Odyssey and The Legend of Zelda: Breath of the Wild in VR, NintendoLabo style! These Nintendo Labo experiences will be available via free software updates on 26th April.
The Starter Set includes the Nintendo Switch software, plus all the components to build the VR Goggles and Blaster, as well as the Screen Holder and safety cap. The Starter Set is a great entry point into the world of Nintendo Labo VR.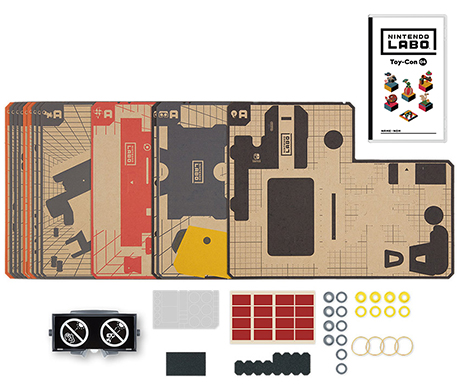 Box Contents:
Nintendo Switch game card containing software for use with VR Kit
Cardboard sheet x13
VR lens piece x1
Reflective sheet x1
Sponge sheet x2
Smooth sheet x1
Eyelet set (grey) x4
Washer (grey) x2
Eyelet set (yellow) x4
Rubber band** (large) spares
Rubber band** (small) x4 + spares
**Made from natural rubber.
Product Details:
Platform: Nintendo Switch
Release Date: 12/04/2019
Category: Nintendo Labo
Franchise: Nintendo Labo
Age Rating: 7
Publisher: Nintendo
Developer: Nintendo
Language: English