New Nintendo 3DS XL Solgaleo and Lunala Limited Edition
The New Nintendo 3DS XL Solgaleo and Lunala Limited Edition system comes in black, with striking artwork of the Legendary Pokémon Solgaleo and Lunala on the outside of the system's upper part. Meanwhile, the battery cover sports subtle grey artwork of these two Legendary Pokémon.Please note: this bundle does not include software for Nintendo 3DS family systems.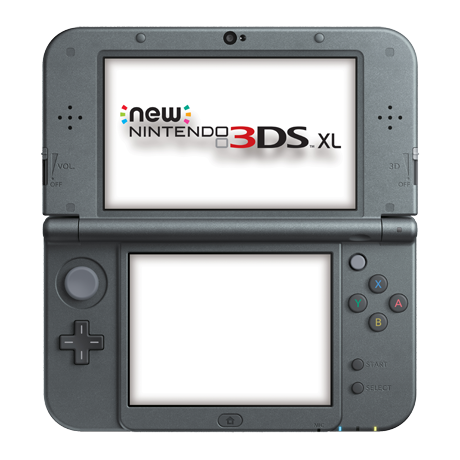 Expanded control options
ZL and ZR Buttons have been added next to the L and R Buttons, and a new C Stick can be found near the A, B, X and Y Buttons, expanding your control options. With these additions, surfing the internet on your handheld is easier than ever, and the functionality brought to you by the separate Circle Pad Pro attachment is integrated into the console.
Enhanced features and processing power
Improved CPU performance allows for faster loading of applications such as Miiverse, and faster speeds for downloading software.* Upgraded camera functionality lets you take better pictures under dim lighting conditions, and with New Nintendo 3DS you can transfer data directly to and from your PC via Wireless LAN, too! You can enjoy videos online** using the Internet Browser installed on the console, plus automatic brightness adjustment optimises the screen to offer the best view for your current surroundings.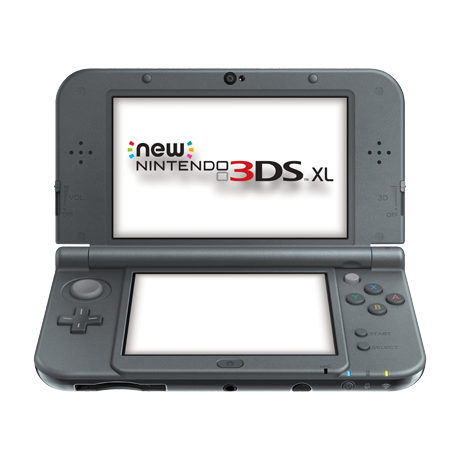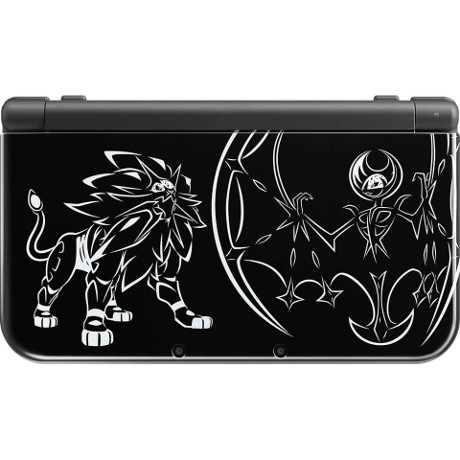 More comfortable gaming with the super-stable 3D function
This function allows the New Nintendo 3DS XL system to recognise your face using the inner camera, automatically adjusting the angle – even if you move a lot during gameplay – to give the best possible 3D experience.
Backwards compatible
You can play all your current Nintendo 3DS games on New Nintendo 3DS, and almost all Nintendo DS and Nintendo DSi games can be played on a New Nintendo 3DS system in 2D.***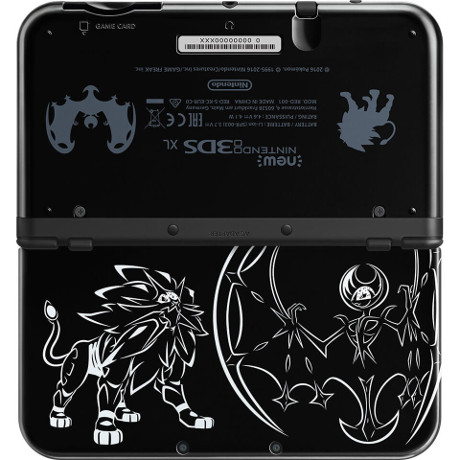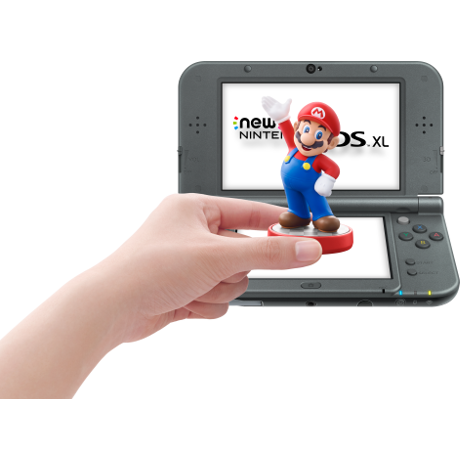 NFC function for amiibo compatible software
New Nintendo 3DS has an area on the bottom screen with NFC reading and writing functions built in, so you can enjoy playing with amiibo in compatible software. Details about compatible software planned for Nintendo 3DS will be announced in the future.Please note: amiibo are not compatible with Pokémon Sun & Pokémon Moon software.
Box Contents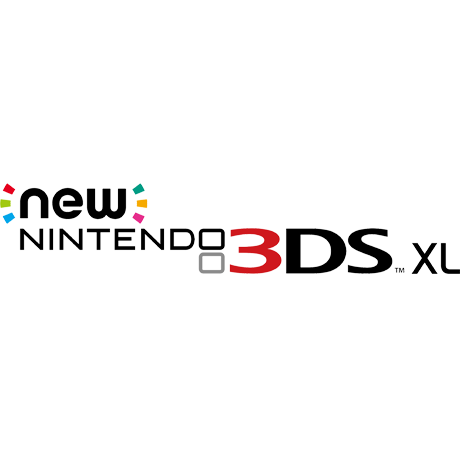 New Nintendo 3DS XL system in black and features artwork of Solgaleo and Lunala. New Nintendo 3DS stylus included.
4 GB microSDHC memory card
Set of AR Cards
Quick-Start Guide
Operations Manual
© 2016 Pokémon. © 1995–2016 Nintendo/Creatures Inc./GAME FREAK inc. Pokémon, Pokémon character names and Nintendo 3DS are trademarks of Nintendo.
*Download speeds may vary depending on your internet connection. **Please note: some video files may not be compatible. ***Select Nintendo DS games that use accessories in the Game Boy Advance slot of the Nintendo DS system are not compatible with the New Nintendo 3DS system.
New Nintendo 3DS XL: This system is supplied with an AC adapter (WAP-002(UKV) for the UK, Ireland and Malta, (WAP-002(EUR) for the EEA, Switzerland and Russia. Adapters provided with the Nintendo 3DS, 2DS, DSi and DSi XL systems are compatible. WARNING: Viewing of 3D images by children aged six and under may cause vision damage. Use Parental Controls to restrict the display of 3D mages. NOTE TO PARENTS: The system should always be set up by an adult. Use Parental Controls to restrict features which may not be suitable for children. IMPORTANT: Nintendo may automatically update your new Nintendo 3DS system. Any unauthorised technical modification of the hardware or software of your new Nintendo 3DS system, or the use of an unauthorised device with your system, may render your system permanently unplayable and result in removal of unauthorized content. To use online services, you must have access to a wireless internet connection and accept the network-related terms and privacy policies. You may be also be required to create or link a Nintendo Network ID. Some online services may not be available in all countries. THIS SET INCLUDES: NEW NINTENDO 3DS SYSTEM European Version, COVER PLATES, NEW NINTENDO 3DS STYLUS, 4GB micro SDHC MEMORY CARD, AR CARDS, OPERATIONS MANUAL AND QUICK-START GUIDE. Manufactured by Nintendo