New Nintendo 2DS XL Black and Lime Green + Mario Kart 7
A new member of the Nintendo 3DS family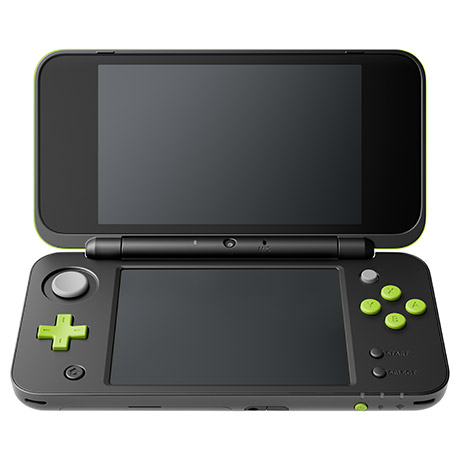 More control options
New Nintendo 2DS XL includes a C Stick and ZL/ZR Buttons, giving expanded control options in compatible games. The C Stick allows for sensitive controls depending on how hard you press.
Enhanced features and processing power
Improved CPU performance allows for faster loading of applications such as Miiverse, and faster speeds for downloading software.* Upgraded camera functionality lets you take better pictures under dim lighting conditions, and with New Nintendo 2DS XL you can transfer data directly to and from your PC via Wireless LAN, too! You can enjoy videos online** using the Internet Browser installed on the console, plus automatic brightness adjustment optimises the screen to offer the best view for your current surroundings.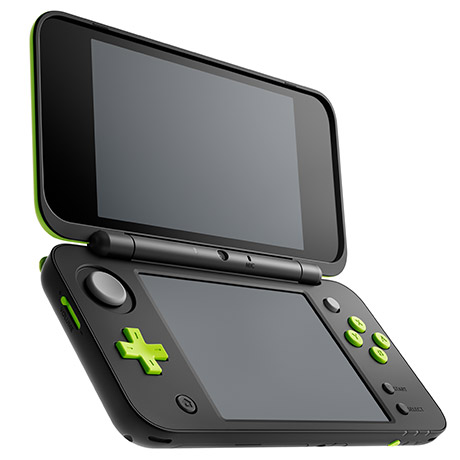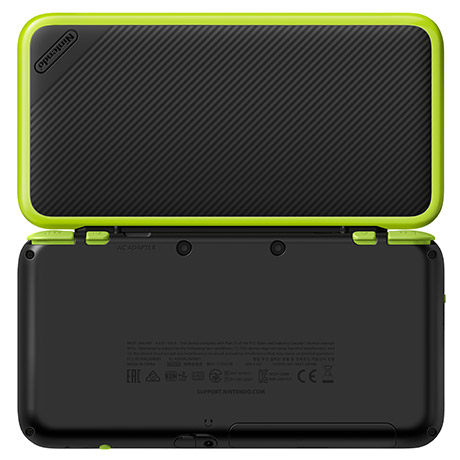 Backwards compatible
All Nintendo 3DS and Nintendo DS software can be played on New Nintendo 2DS XL, including New Nintendo 3DS software, in 2D. Software from other regions cannot be used. It is not possible to play Nintendo DS games that require accessories.
NFC function for amiibo compatible software
Near-field communication (NFC) is built into the lower screen. If you touch an amiibo (sold separately) against it while enjoying compatible software, you can read and write data on the amiibo and enhance your games in surprising new ways!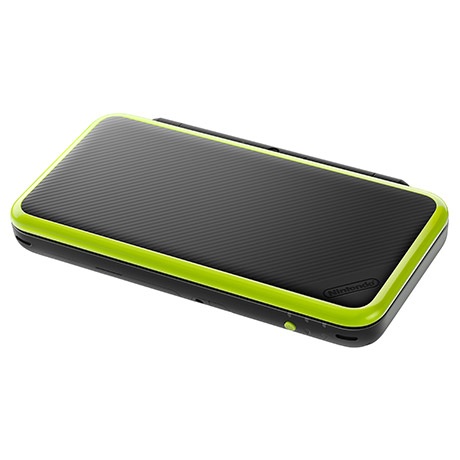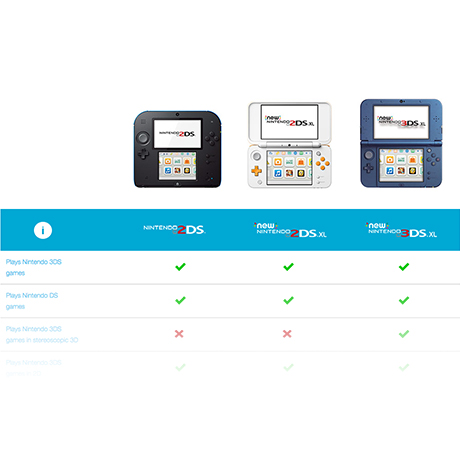 How does the New Nintendo 2DS XL measure up against other Nintendo handheld consoles? Visit our specifications table page for more information about the console, including information about its functionality, size, weight, memory capacity and more.
What's in the box: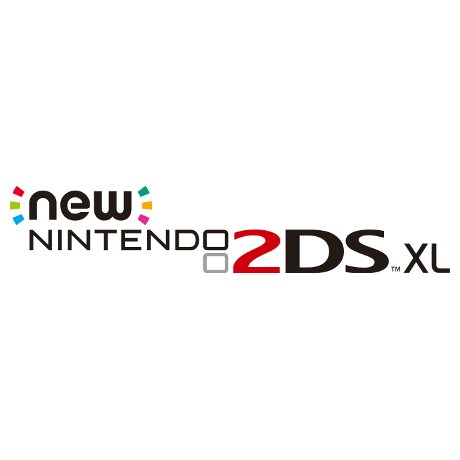 New Nintendo 2DS XL system
New Nintendo 2DS XL stylus
microSDHC memory card (4GB)
AR Cards
Operations Manual
AC adapter
*Download speeds may vary depending on your internet connection. **Please note: some video files may not be compatible.
Please note: the stylus and microSDHC memory card are stored in the system out of the box.
Mario Kart 7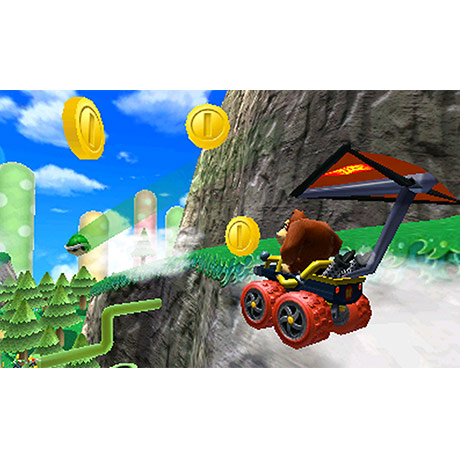 Soar through the sky and dive underwater as the world of racing gets bigger, better, and enters the third dimension! Not only can you now customise your kart to your heart's content, you are also able to put yourself in the driving seat and steer by using motion controls.
Players can show their own style by customizing their vehicles with accessories that give them a competitive advantage. For instance, giant tires help a kart drive off-road, while smaller tires accelerate quickly on paved courses.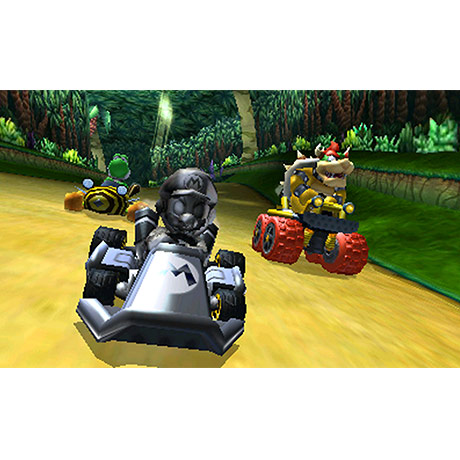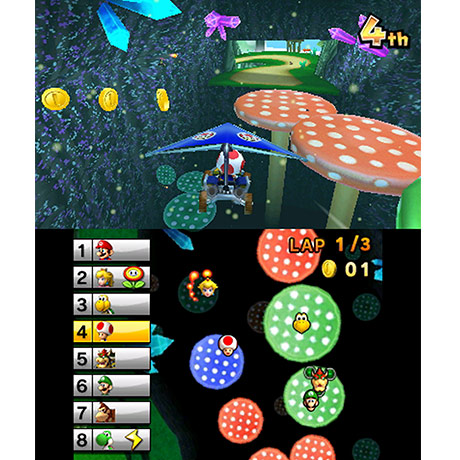 New courses take players on wild rides over mountains, on city streets and through a dusty desert. Nintendo fans will recognize new courses on Wuhu Island and in the jungles from Donkey Kong Country™ Returns
The game supports both SpotPass™ and StreetPass™ features. Players can compete in local wireless matches or online over a broadband Internet connection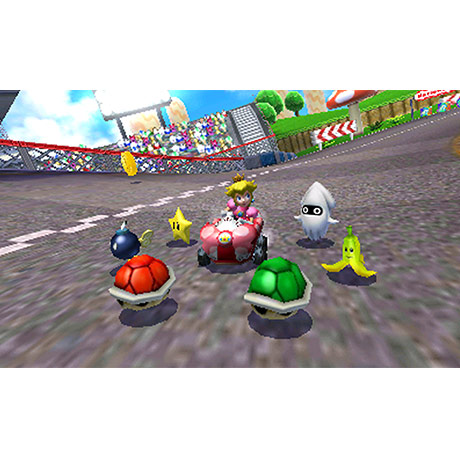 Product Details: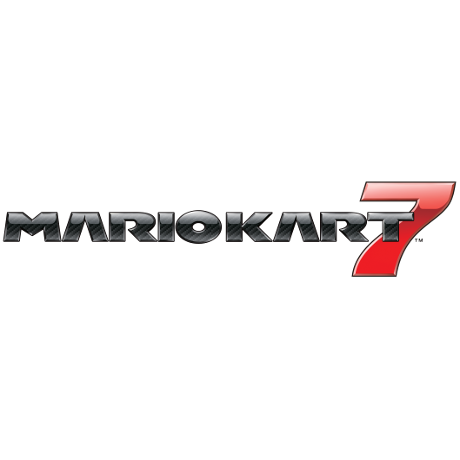 Platform: Nintendo 3DS
Release Date: 02/12/2011
Category: Party, Racing
Multiplayer Mode: Simultaneous
Players: 1 - 8
Age Rating: 3 and over
Publisher: Nintendo
Developer: Nintendo
Languages: English, French, German, Italian, Portuguese, Russian, Spanish, Dutch
*Wireless internet connection required. The registration of Nintendo Network ID and acceptance of the network related terms and privacy policies required.